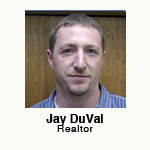 Jay was born and raised in Fairbanks. He resides in town with his wife Eva and two precious daughters. He was first introduced to Real Estate part time, working for Gene during the day and the FNSB School District at night.
In 2002 Jay went full time with the Gene DuVal Real Estate team. He became licensed in 2004. He enjoys working with Buyers and Sellers alike.
It's wonderful to see a new Buyer's dream of home ownership come true, or to see a satisfied seller move on, often to either a larger home or even a custom Built home.
That is why I enjoy working in this career so much. I would love to be able to assist you in all your Real Estate needs. If you or a friend are ever in need of assistance in buying or selling Real Estate, give our team a call.